As LuminUltra marks its fifteenth year in business, we asked our President & CEO Pat Whalen to share his thoughts on the evolution of the company. Here are some highlights of our conversation.
What are some of the things that stand out for you personally as you reflect on the past 15 years?
Where do I start? I can say that when I graduated from university with an engineering degree, I never foresaw myself operating a business, selling and marketing products, or doing deep research on new types of microbiological testing or software development. I never saw myself as businessman, a salesperson, or a researcher. I thought, "I'm going to be an engineer and design processes and try to improve water quality where I can in different industries and parts of the world".
It's just been a roller coaster ride for the past 15 years. But I wouldn't change anything. It has been constant learning. I was lucky to inherit an unquenchable thirst for gathering new knowledge every single day.
Can you tell me, as you look back, what are some of the key points of the growth and evolution of the company?
The inception of LuminUltra was in 1995 when my father, chemical engineer Phil Whalen, and his business partner, microbiologist Jim Cairns, began developing our 2nd Generation ATP technology. When they came up with that idea they realized a lot of grunt work would need to be done in the lab. That's where I came in.  At the age of 15 I was assigned the task of being a laboratory technician, a role I held throughout the remainder of high school and university.
In 2003, LuminUltra marked its second major milestone when dad took a leap of faith and decided to change the entire business model that he had established over the previous 20 years from consulting to product development and sales. That's a big shift – going from a service-based business to a product-based business. We dove into it and started trying to sell our wares to markets we thought would have the greatest demand.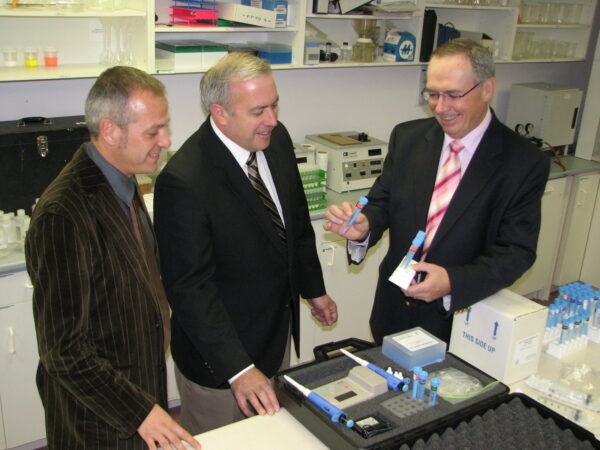 Shortly after that was the third milestone – that being when the sales didn't come. We realized we wouldn't be able to make the business work if we didn't expand our horizons – and that meant looking at other markets and applications for our product. This proved fruitful in terms of increasing sales and establishing more applications for our products.
In 2008, dad was diagnosed with cancer and given a year to live. That kicked the succession plan into high gear and I began taking over management and oversight of the company at the age of 28. It was imposing, but it was a fight or flight choice and I chose to fight. In 2009, things started to change. We became cash flow positive through the support of our partners, suppliers and customers.
From 2009-2015, we grew rapidly based on all the great relationships we formed in those early years. At the end of that, I realized that in order to turn this company into what I envisioned it could become, we needed help. I sought and found a business partner who could help us take things to the next level. Over the past couple of years, we've continued the same growth externally but also internally in that we've built out our team to more than 50 employees – two years ago that number was 25. We have a great team of professional, hard-working, hard-driving people who are aligned toward the goal of where we want to take this company – to change the way the world thinks about microorganisms in water.
What are some of the opportunities you see coming in the next 15 years?
Over the past few years I've seen more international news about water quality and microbiological outbreaks than I did in all the years prior. Awareness is growing at an exponential rate. Whether you're looking at drinking water, wastewater treatment or industrial water treatment, our team at LuminUltra will be continuing to work to meet the growing demand for better tools, better mechanisms and, most importantly, better knowledge about how to manage microorganisms in water.
Whether it's through our easy-to-use data management and analysis tool, LuminUltra Cloud, our online learning portal, LuminUltra Academy or any one of our many blog posts, white papers or case studies, our commitment to sharing knowledge is clear. Learn more about LuminUltra and our philosophy here.