As water scarcity becomes more of a concern around the globe, more and more people are asking themselves questions like, 'What things do I use in my life that require a lot of water?' or 'Can I lessen my impact by making different choices?'
The fact is that we all use water, probably a lot more than most people realize. The terms embedded water and virtual water are just now becoming widely used as ways to express how much water has gone into producing the goods we buy, sell, eat, drink and otherwise consume.
Not surprisingly, one of the largest uses we have for water is crop production. The agriculture industry worldwide uses approximately 70% of our global freshwater supply. With that in mind, take a look at this chart that highlights some noteworthy crops that require a lot of water. The chart also indicates some of our least 'thirsty' agricultural products. The graphic comes from the Pacific Institute, a not-for-profit think tank that studies global water issues.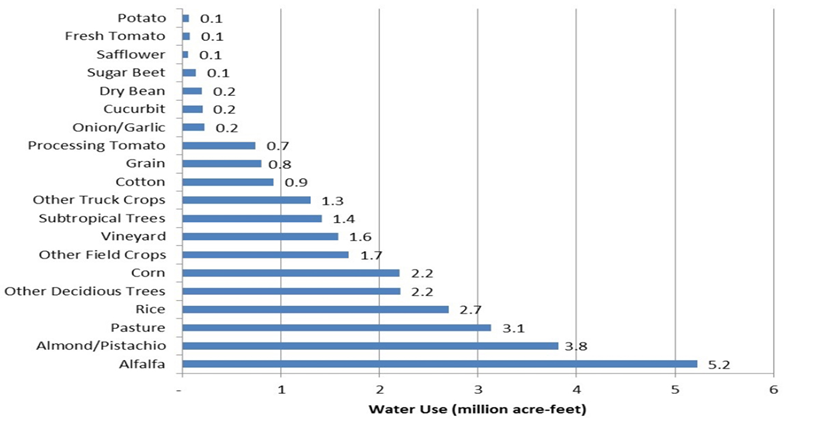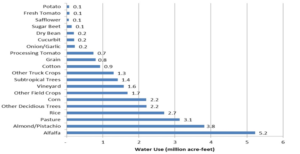 Some interesting things to keep in mind:
This chart deals with California specifically.
Almonds received a lot of negative media attention in the past few years because crops require high water use. However – in California at least – alfalfa crops require a substantial amount of additional water.
California gets a lot of attention, in North America at least, for its importance as a provider of produce. All over the world, there are similar regions that are relied upon to grow and distribute food to neighbouring areas. Just like we at LuminUltra take seriously the role we play in supporting our clients across a wide range of industries, we recognize the importance of clean water to the agricultural sector.