State-of-the-science molecular testing solutions
Outsource your microbial analysis
LuminUltra's laboratories offer industry-leading molecular testing solutions and services. Our team of experts is here to work with you from sample collection to data interpretation to understand what microbial and pathogen activity is having the greatest impact on your systems in applications including: 
We work with you to help identify the best targets for your needs.
Listed below are some of our available assays. We regularly work with customers to develop assays specific to their needs. Contact us to learn more.
| | |
| --- | --- |
| Bacteria & Archaea (NGS-BA) | MRSA (femA, mecA162, mecA99, Nuc, SCN, TetM) |
| Fungi & Oomycetes (NGS-FU) | Adenovirus ddPCR |
| Total Archaea (GC-TA) | Enterovirus ddPCR |
| Total Bacteria (GC-TB) | Norovirus (GI, GII) |
| Total Prokaryotes (GC-TP) | Rotavirus ddPCR |
| Total Fungi (GC-TF) | SARS-CoV-2 (N1, N2, Del69/70, P681R, WT-69, WT-E484, WT-P681) |
| E. coli (GC-LS) | Bird (GFD) |
| Iron-reducing Bacteria (GC-IR) | Chicken (CP2-9-EPA) |
| Legionella sp. (GC-LS) | Cow (M2-EPA1, M3-EPA2) |
| Legionella pneumophila (GC-LP) | Dog (DG3-EPA, BacCan-UCD, DF475F) |
| Methanogens (GC-ME) | Elk / Deer (EF990R) |
| Methanogens-Corrosive (GC-MC) | Goose (CGOF1, CGOF2) |
| Sulfur-oxidizing Bacteria (GC-SO) | Gull (Gull4) |
| Sulfate-reducing Bacteria (GC-SR) | Horse (HoF597F) |
| Campylobacter ddPCR | Pig (Pig2Bac, Pig2Bac ddPCR) |
| Enterococcus faecalis | Poultry (CL) |
| General Bacteroidetes | Beaver (BeaPol01) |
| General Enterococcus | Ruminant (Rum2Bac, BacR) |
| E. coli O157:H7 | Sewage (BacV4V5-1, BacV6-21) |
| Salmonella ddPCR | Human (HF183, HF183 ddPCR, HF183/BacR287, HumM2-EPA, HumM2-EPA ddPCR, BtH. BsteriF) |
| | |
Sample with confidence
LuminUltra's Sample Preservation Kit
LuminUltra's Sample Preservation Kit ensures the microbiome of the sample is preserved as sampled, ensuring the most accurate results regardless of location or time of sampling.
Submit a variety of sample types via the Sample Preservation Kit, including solids, surface swabs, water and wastewater. Samples ship at ambient temperatures and via standard mail, with no need for cold chain shipping.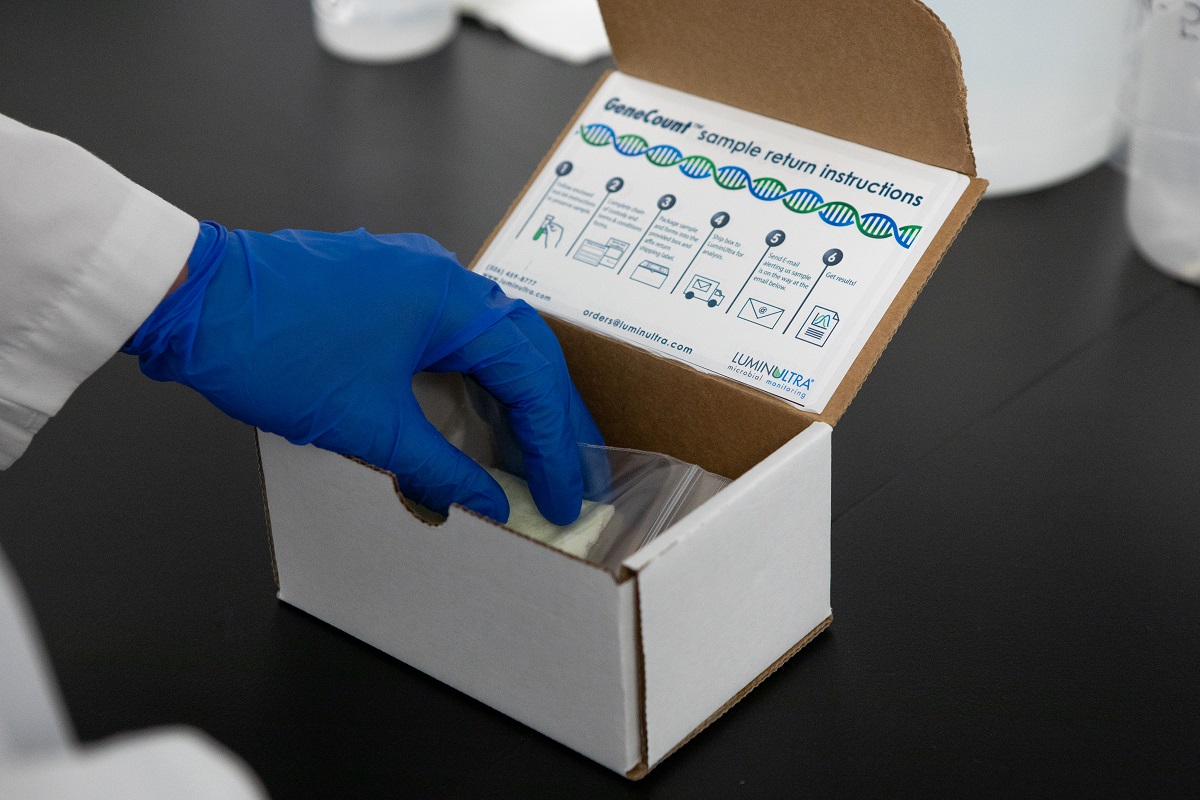 Discover the LuminUltra difference
We're here to help. Our team of experts is available to help you from designing your sampling plan to interpreting your results. Customers around the world, including the CDC, have trusted us with a range of sample types and applications. 

Quality
Our Florida lab is accredited to the international standard ISO17025:2017 by A2LA.

Actionable
We are with you to support from project design to results. Our reporting includes the quantifiable data you need as well as key insights to understand what actions to take next.

Innovative
We leverage advances in genetic technology including digital PCR (dPCR), enabling you to make scientifically-sound decisions.
Experienced
We have worked with hundreds of organizations to analyze thousands of samples per year while ensuring quality and accuracy for each client