Rapid, on-site
COVID-19 Wastewater Testing
New test now available
A game changer for early detection
Wastewater epidemiology is an important tool in the fight against COVID-19, allowing for rapid, non-invasive insights into the health of large or targeted populations including municipalities, care homes and dormitories. Influent wastewater monitoring for signs of COVID-19 infections has been shown to be a powerful early warning tool for identifying asymptomatic carriers.
LuminUltra's new COVID-19 wastewater test is a true game changer, making the process of testing wastewater faster, cheaper and eliminating the need for additional specialized equipment.
On-site Testing
Fast results with no specialized equipment or lab expertise required
Testing Service
Send us a sample, and we'll do a detailed diagnostic testing for you
Variant Detection
Now available: Detect the presence of specific variants
Faster, cheaper, easier
The challenge with previous methods for testing wastewater for COVID-19 is that the collection, extraction and concentration steps are expensive, complicated and time-consuming.  This is why, to date, this type of testing has been mostly done on universities and using mail-in services.
LuminUltra's patent-pending innovation has simplified the process, resulting in a test that gets you results in hours rather than days or weeks, and does not require specialized equipment or lab expertise unlike other testing methods.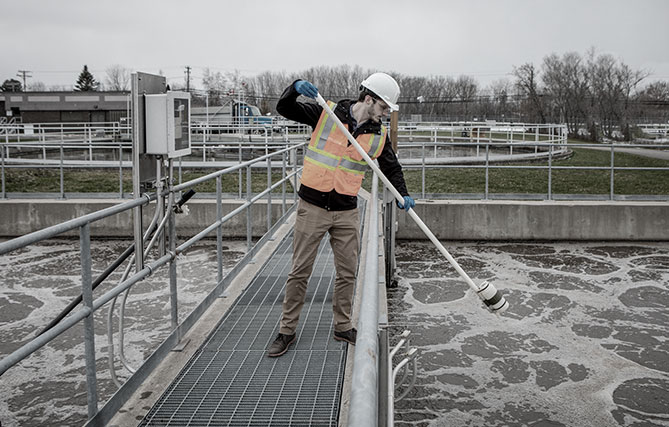 WHITEPAPER
Detect Outbreaks 7 Days Sooner
By comparing SARS-CoV-2 concentration in wastewater using the direct extraction method to reported clinical cases across the same time period, the results of this study demonstrate the capability of wastewater surveillance to detect trends in community COVID-19 cases 7 days prior to cases being reported.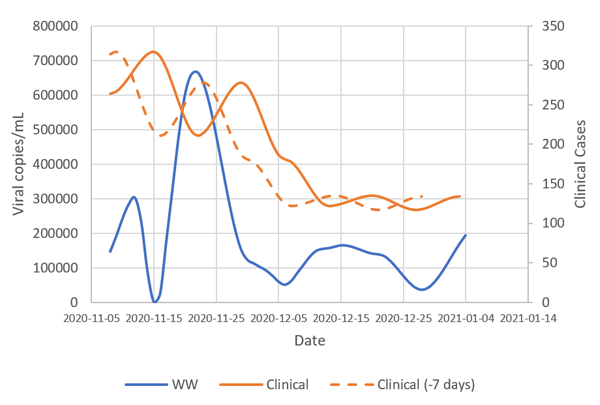 Gold-standard testing technology
Wastewater testing for COVID-19 is done via qPCR – the same technology used for clinical testing.
The LuminUltra GeneCount® qPCR device is rapid, portable, can be used on-site without a lab, and produces results in under 90 minutes.
Additional COVID-19 testing methods are also available for the GeneCount® device, including surface, air, and clinical diagnostics.
Ask us for a complete list of industrial assays targeting additional microbes for system monitoring.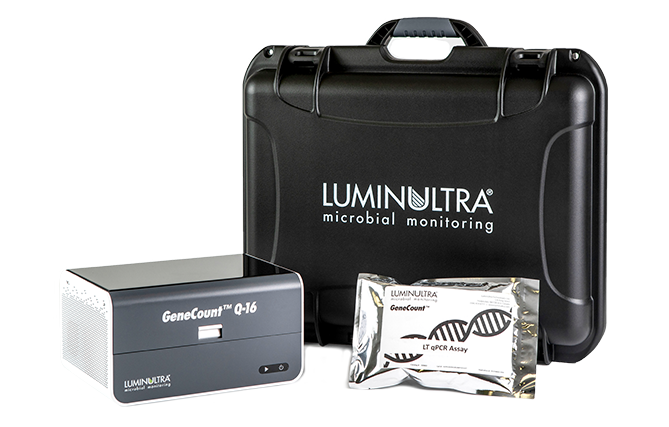 A complete solution, available now
Other tests on the market only provide the assay and qPCR device. Only LuminUltra can provide a complete, rapid test for COVID-19 in wastewater.
LuminUltra is a key supplier of COVID-19 clinical testing reagents to the Government of Canada, and customers in over 80 countries trust our technology, production reliability and history of customer service excellence to deliver their essential services in a safe-state.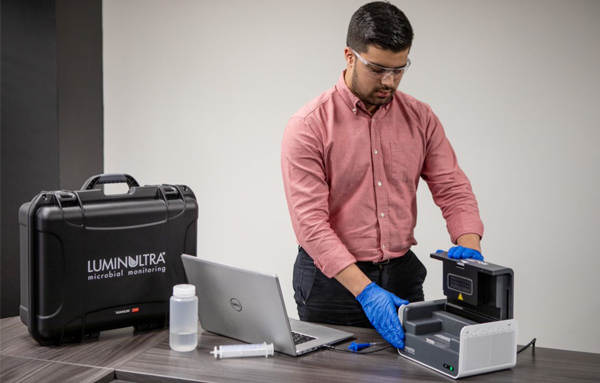 Testing Services
Let us do the testing for you. Collect your sample, preserve it, and send it to us for analysis using Next Generation Sequencing (NGS) and targeted qPCR testing. View the findings online to interpret what your results are telling you.
Variant detection now available
Multiple variants of the virus that causes COVID-19 are circulating globally and within the United States. Testing services and variant detection are offered through Source Molecular – a LuminUltra company.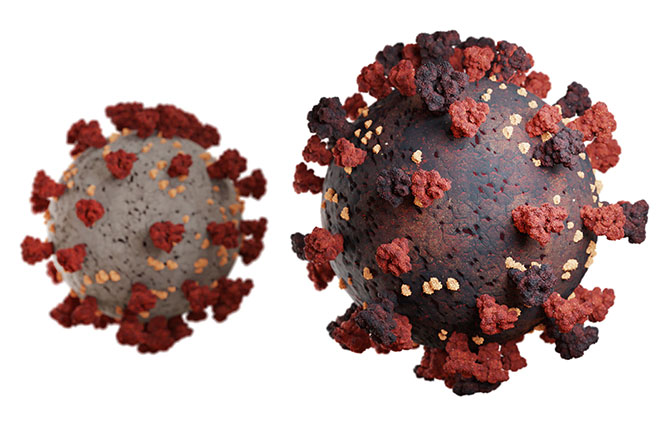 WEBINAR ON-DEMAND
Wastewater testing for the fight against COVID-19
LuminUltra's patent-pending innovation provides a faster, cheaper, and easier COVID-19 wastewater test — from sample collection to result. Learn how you can use wastewater testing to help manage the risk of COVID-19.